When preparing a tax return, one of the first decisions we make is to pick a filing status. Filing status determines which tax rates apply to our income and determines our standard deduction. Filing status is based on two general factors: whether a person is married or not, and whether a person has closely-related dependents.
There are five different filing status:
Each has slightly different eligibility criteria. A flow chart may help assist taxpayers in making filing status decisions. I found the following two charts.
The first chart I found comes from the Massachusetts Institute of Technology: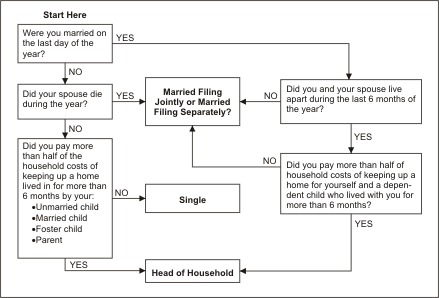 Source: MIT.
The second chart I found comes from Publication 4012, page B-1, which is too large to post here, so I extracted the chart and posted it separately.
The Internal Revenue Service has an interactive tool on their Web site called What is My Filing Status? The tool asks a series of questions to help you determine the most appropriate filing status for your situation.